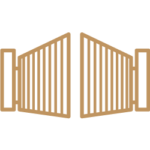 The Continental boasts unparalleled natural beauty in a true private estate setting, only blocks from the conveniences of Saint John, the wealthiest community in Indiana, while just 3 miles from Illinois and 30 miles from downtown Chicago.
It is home to fifty-two lots located on over fifty-five acres of pristine natural woods and prairie with natural and man-made lakes and 50 feet of elevation change.
Lots are starting in the two-hundred and fifty thousands.
The Continental is composed of pristine forests, rolling hills, and natural lakes that sit atop the Saint Lawrence River Continental Divide. This Continental Divide in Indiana separates the Great Lakes-St. Lawrence River Basin from the Mississippi River and Gulf of Mexico watersheds.
The portion of the St. Lawrence River Basin that passes through The Continental Subdivision is referred to as the Muenich Pass. The northern lots of The Continental drain to the Atlantic Ocean by way of the Great Lakes and Saint Lawrence River. The southern lots of The Continental drain to the Gulf of Mexico by way of the Kankakee, Illinois, and Mississippi Rivers.
The Continental Divide is a ridge that separates stormwater flow towards Lake Michigan or the Gulf of Mexico, giving the neighborhood its name. This area, among Lake County's highest elevations, holds significant importance for the Muenich family, who have lived here for generations. The land intertwines with their rich history, allowing future residents to appreciate the family's legacy and the breathtaking surroundings.
The Benefits of Living in The Continental
Fifty-two lots sit on over 55 acres of pristine natural woods and prairie, with natural and man-made lakes and 50 feet of elevation change- The Continental is home to an extraordinary landscape.
Being Saint John's only gated community, The Continental offers a safe and private sanctuary that is unparalleled by other communities. With beneficial restrictive covenants and a strong homeowners association that hold high expectations, the community will be home to some of the most luxurious homes in Northwest Indiana.
The property lies just off of US 41, giving you virtually instant access to local shopping, restaurants, and attractions, while at the same time being only a short drive from other offerings in Schererville, Crown Point or Cedar Lake.  The Continental allows you to take in everything that is offered in Northwest Indiana.
Indiana is home to low property taxes and sound fiscal government, a welcome change for many former residents of Illinois.  The secret is out- Saint John has welcomed thousands of former Illinois residents over the years.
Features of The Continental
Gated & Private Community
Extensively Landscaped
Natural & Paved Walking Paths
50 Feet of Elevation Change
Natural & Man-made Lakes
Restrictive Covenants
Homeowners Association
Convenient Location
PRIVATE LUXURY GATED COMMUNITY
Gated communities give you the added privacy and safety that you and your family deserve.  The Continental will be an oasis in the center of one of the safest towns in Indiana while also enjoying a sense of community that has become uncommon in many new developments.
The Continental residents will enjoy a private surrounding of pristine forest, rolling hills, and natural lakes, nature walking paths, along with adjacent access to a large town park with many amenities.  The natural beauty of the land will be enhanced by extensive landscaping including flowers, plantings and landscape lighting actively maintained by the homeowners association.
The Continental maintains Strong Architectural Covenants and a Homeowners Association, ensuring your investment will remain strong and your surroundings beautiful.
St. John has developed into one of Chicagoland and NW Indiana's finest towns to live. With beautiful views, quality homes, a safe community, activities for any time of day and age, nearby dining and shopping options, easy access to and from Illinois, and the perks of low Indiana taxes, many have found the benefits of Saint John to outweigh the most communities. Located just east of the Illinois border, only a short drive from the city of Chicago, commuting, shopping, dining or weekend getaways are convenient. Saint John also sits adjacent to some of Northwest Indiana's other top towns such as Crown Point, Cedar Lake, and Schererville, which offer even more amenities just a short drive away.
Saint John openly welcomes new residents and visitors. 100,000's of travelers come to "take the journey" at The Shrine of Christ's Passion or to watch their high school team compete against Lake Central's many top-ranked teams. Saint John's natural beauty, Its preservation of trees and natural areas along with paved walking/biking trails make the community a desirable place to live. Come make a visit soon.

11770 W 93rd Ave
St John, IN 46373